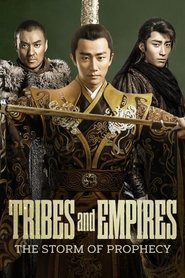 Tribes and Empires: Storm of Prophecy
TV-show Tribes and Empires: Storm of Prophecy (iQiyi, QQLive, Youku) started in 2017 and produced in China by studio 九州梦工厂国际文化传播有限公司. Duration of one episode is 45 minutes. The genres of that tv-series are action & adventure, drama, war & politics.
You can watch free all seasons and episodes of Tribes and Empires: Storm of Prophecy on 123movies.
Overview
Muyun Sheng, born from a spirit mother, is the unfavoured sixth son of the reigning Emperor Ming of Duan. Discovering an ancient painting by chance, he is captivated by the spirit locked inside (Panxi), and together, they promise to search for the most beautiful places on Earth. Muru Hanjiang, friend of Muyun Sheng, is the son of General Muru Shuo, famous for conquering the Eight Tribes of Han Province. Many years later, the descendant of the Eight Tribes Shuofeng Heye sows discord between the Muyun and Muru families. Only when the friendship and loyalty between these two families is rebuilt will the Duan Dynasty be safe from invasion by the Eight Tribes. This drama tells of the loyalty, friendship, enmity and romance between the young descendants during the twilight years of the Duan Dynasty.
TV Status: Ended
Duration: 45 min
Release: 2017
Starring: Edward Zhang, Gao Ye, Huang Xuan, Janice Man, Janine Chang, Jiang Qin Qin, Kan Qing Zi, Karlina Zhang, Li Xin Ai, Lulu Xu, Peng Guan Ying, Regina Wan, Shawn Dou, Wang Qian-Yuan, Wang Si Si, Zhou Yiwei,