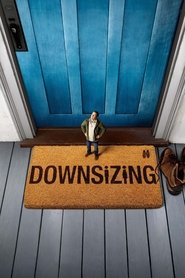 Downsizing
Movie Downsizing directed by Alexander Payne, produced in United States of America and released in 2017. The genres of the film are comedy, drama, science fiction, duration - 135 minutes, IMDB rating for now is 5.7.
You can watch online free and download Downsizing or watch official trailer.
Overview
A kindly occupational therapist undergoes a new procedure to be shrunken to four inches tall so that he and his wife can help save the planet and afford a nice lifestyle at the same time.
Views: 25
Genre: Comedy, Drama, Science Fiction
Director: Alexander Payne
Actors: Aaron Befus, Alari Tork, Aleksander Krogevoll, Alison Brooks, Alison J. Palmer, Ana Marie Cox, Anastasia Kharlamova, Ann Bordwine Beeder, Antti Muhunen, Balaram Vilchis, Bent Brakas, Bill Coulter, Bjørnar Egede-Nissen, Bob Bezousek, Brendan Beiser, Brigette Lundy-Paine, Cameron Geddes, Carmen Orellana, Caroline Andersen, Christoph Friedrich Richter, Christoph Waltz, Cicela Bravatti, Dalila Gamboa Diaz, Damiãn Garth Brown, Dave Sokolowski, David Gudjonsson, David Noonen, Don Lake, Donna Lynne Champlin, Elizabeth Jeanne le Roux, Erik Andersen, Erik Irwin, George B. Seremba, Hong Chau, Howard J. Davis, Ida Linckert Hertzman, Ingjerd Egeberg, Jacob Pettersson, Jahkeil Goldson, James Van Der Beek, Jani Hamalainen, Jason Sudeikis, Jayne Houdyshell, Jeff Clarke, Jeffrey R. Smith, Jeffrey Sinclair, Jermaine Otis Granville, Joaquim de Almeida, John Reynolds, Jon De Leon, Jorge Tello, Jorgen Runas, Juan Carlos Velis, Kari Svenneby, Kathryn Aboya, Kent Nielsen, Kerri Kenney-Silver, Kerry-Lee Finkle, Kevin Kunkel, Kimberly Kodatsky, Kimberly Rowntree, Kristen Thomson, Kristen Wiig, Kristin Lyssand, Kristina Cocoli, Kristina Yedlitska, Ksenia Daniela Kharlamova, Larry Mannell, Lars Paronen, Laura Dern, Lidia Perez, Lina Shekhovtsova, Linda M. Anderson, Loukia Papadapoulos, Margareta Pettersson, Margo Martindale, Maria Kontou, Marianne Haldorsen, Maribeth Monroe, Mark Makivirta, Martha Girvin, Mary Kay Place, Maryam Moshiri, Matt Damon, Michael Heathcote, Michael Skretteberg, Michaela Sanielevici, Milo Goodman, Natasha Bromfield, Neil Patrick Harris, Nick Douzenis, Niecy Nash, Pamela Archer, Pat Lally, Patrick Gallagher, Paul Constable, Paul Landais, Paul Mabon, Pepe Serna, Peter Melatos, Phil Reeves, Raffaele Brereton, Raimo Kurppa, Ramon Marroquin, Richard D. Leko, Riita Nikolakakos, Rodrigo Salera, Roland Martin, Rolf Lassgård, Rose Bianco, Salvador Sindoni, Sari Miettinen, Sherry Mandujano, Solveig Barber, Søren Pilmark, Spiros Kontos, Steve Fievet, Tanya Missirlian, Tero Konttinen, Thomas Paloheimo, Thomas Wicks, Tim Driscoll, Tomas Straum, Udo Kier, Veena Sood, Velva Nystrom, Warren Belle
Country: United States of America
Duration: 135 min
Release: 2017